Waking up everyday not feeling well but sluggish even exhausted, bloated or constipated, hating your expanding spare tire around your wasteline, experiencing constant headaches ... your body is talking to you but you are not listening.
What is the most important thing you can do for your body, mind and soul right now, today? One word, detoxification - both physically and mentally.
DETOXIFICATION IS CRITICAL FOR HEALTHY CELLS.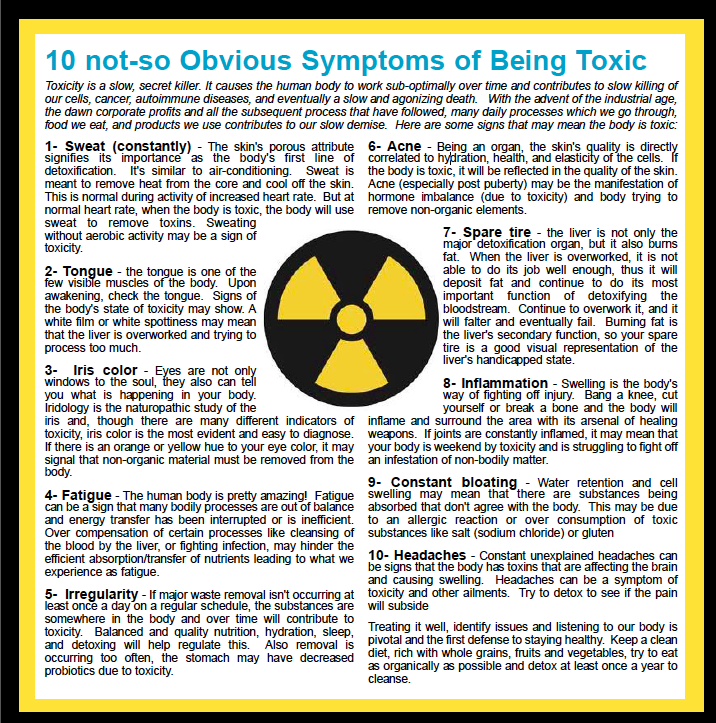 BODY TALK -
Not so obvious symptoms of being toxic:


- Sweating without activity.
- Whiteness of the tongue.
- Yellowing of the eyes.
- Constant fatigue.
- Constipation.
- Hormone imbalance reflected in skin eruptions.
- A spare tire around your middle.
- Inflammation
- Constant bloating.
- Constant headaches.
Without detoxification of your cells, waste, chemicals and heavy metals begin to accumulate and destroy them. The mind and body become sick and diseased, slowly, but surely.
Culprits of Destruction:

Listed below are common daily culprits. Remove as many as possible from your life
.

TOXIC INGREDIENTS:
Chemically poisoned food and beverages - Sugar, aspartame, corn syrup, sodium, alcohol, nicotine, tap water, fluoride, aluminum, mercury, lead, cadmium.
TOXIC ENVIRONMENT:
Synthetic fabrics worn against the skin (polyester, nylon), dry cleaning. EMF's, wireless technology, SMART appliances, chemtrails, prescription drugs, street drugs, vaxxinations, antibiotics, pesticides, tap water. Living close to power lines, cell towers, or factory plants.
THE MIND:
Negative emotions, stress, negative media, stressful relationships, financial pressures.
CANCER
Did you know that most cancer patients suffer from prolonged constipation and liver damage BEFORE they are diagnosed? This is due to their bodies being so overly toxic, that the body can no longer function properly and eliminate the toxins. Cancer is the bodies natural response to try and eliminate accumulation of acidic toxicity. If the body is too toxic, the cancer cells proliferate in a desperate attempt to correct the body. They themselves then become a problem.
Our health is being tested and pushed to the limit every single day.
Deadly Toxins Permeate Our Lives.
No-one Is Immune.


Poison
- Mc Donalds, Milk, the Atkins Diet, Coke, Fluoride, and Whey (which is used as a filler in bread, cakes and diet supplements).
Killer Reality - EMF
1) Your cell phone and other wireless technology is silently destroying your brain
as well as your body, and causes infertility and tumors. 5G resonates high above the natural frequency of all living things and will slowly destroy us and the world we live in.
2) Microwaves change the molecular structure of your food and your DNA.
3) Fluorescent lighting and swirly lightbulbs affects chemicals in your brain.
TOXIN CHECKLIST
- Checklist of common everyday toxins to identify and remove from your home and your daily environment. Prevention is key.
Chemtrails and Vaccines
- The air we breath is deliberately poisoned with chemicals. Live vaccinations spread disease, poison the body, and break down the immune system.
Drug Resistance
- Antibiotics are failing against new bacteria and viruses because our bodies are so used to them. The list of drug options is growing everyday, but the body is not responding due to toxic overload.

Aspartame
- What REALLY killed Heath Ledger? Heath was taking several medications plus aspartame, a deadly combination.
Aluminum Poisoning
- When was the last time you checked the contents of your toothpaste, shampoo or anti-antiperspirant? Aluminum poisoning is linked to both Alzheimer's and Parkinson's disease.
Plastic Bottles
- Heat and plastic are a horrible combination, releasing harmful chemicals into the contents. Do NOT keep water bottles in car. Do NOT microwave food in plastic containers. Do NOT cook with plastic film covers. Do you know which plastics are safe and which are not?