-


-


Click image to view video.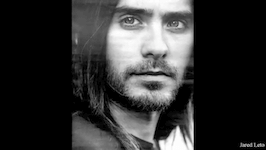 Beautiful video with words of wisdom.

ACTORS

: Leonardo De Caprio, Josh Hartnett, Samuel Jackson, Tom Hanks, Forest Whitaker, Jackie Chan, John Cleese, Dustin Hoffman, Tobey Maguire.

Eric Roberts, William Defoe, Pierce Brosnan, Richard Gere, Robert Redford, Keenan Ivory Wayans, Danny De Vito, Casey Affleck - Oliver Stone (director).

ACTRESSES

: Jessica Biehl, Kristen Bell, Natalie Portman, Jenna Dewan, Olivia Wilde, Liv Tyler, Ashley Judd, Cameron Diaz, Kim Basinger, Christina Applegate, Alyssa Milano, Ellen De Generes, Portia De Rossi, Jenny McCarthy, Petra Nemcova.

Jennifer Connelly, Reese Witherspoon, Daryl Hanna, Vanessa Williams, Candace Bergen, Kate Winslett, Joanna Lumley, Anne Parillaud, Brigitte Bardot - Lily Aldridge (model).

SINGERS

: Seal, Justin Timberlake, Chris Martin, Lenny Kravitz, Prince, Thomas Yorke, Andre, Billy Idol, Peter Gabriel, Eddie Vedder, Common, Bob and Ziggy Marley, All The Beatles, Little Richard, Bob Dylan, Benji Madden, Kenny Loggins, Barry White, Vanilla Ice.

Pink, Brandy, Shania Twain, Joss Stone, Carrie Underwood, Sade, Fiona Apple, Tracy Chapman, Annie Lennox, Avril Lavigne, Erika Bardu, India Arie, Natalie Imbruglia, Nena, Tina Turner, Missy Elliot, Alanis Morissette - Russell Simmons (producer).

WRITERS

: H. G. Wells, Mark Twain, George Bernard Shaw, Voltaire, Leo Tolstoy, Thoreau, Frank Kafka.

ATHLETES

: Mike Tyson (boxer), Venus Williams (tennis), Timothy Bradley (welterweight boxing champion), Martina Navratilova (tennis - won Wimbledon nine times), Carl Lewis (ten time Olympic medalist, track and field), Edwin Moses (Olympic champion track and field).

Billie Jean King (Tennis), Joe Namath (football), Stan Price (world record bench press), Bill Pearl (four time Mr. Universe), Dave Scott (six time winner Ironman Triathlon).

Charlene Wong Williams (Olympic champion figure skater), Brendan Brazier (endurance athlete, Ironman triathlete), Derek Tresize (vegan bodybuilder), Roy Hilligen (bodybuilder), Luiz Freitas (Mr Olympia), Jake Shields (mixed martial arts champion).

Jon Fitch and Mac Danzig (mixed martial arts), Anthony Peeler, Raja Bell and Robert Parish (basketball NBA), Murray Rose (six time Olympic medalist, swimmer), Ricky Williams (football player NFL).

ODD MAN OUT VEGETARIANS

: Hitler (part time vegetarian), Ghengis Khan, Charles Manson, Pol Pot - what on earth were they eating!

RAW FOOD VEGAN: Mimi Kirk - 71yrs old - 2010
PETA'S SEXIEST VEGETARIAN OVER 50yrs old:
Mimi Kirk is a raw vegan - she takes no supplements, no medication, has had NO surgery or Botox, and has a boyfriend 20yrs younger. Anti-aging and looking great.

VEGANS:
Some are life long, some switch back and forth between vegetarian ...

Singers: Ariana Grande, Billy Eilish, Lizzo, Sia, Leona Lewis - Brian May, Sting, David Bowie, Boy George and Morrissey (UK), Bif Naked (Canada), Travis Barker, Anthony Kiedis, Bryan Adams, Moby, Stevie Wonder, Jason Mraz, Rob Zombie, Willi.i.am.

Actress: Pam Anderson (Canada), Demi Moore, Uma Thurman, Angela Bassett, Lisa Bonet, Alicia Siverstone, Evanna Lynch, Gwenyth Paltrow, Rooney Mara, Mayim Bialik, Sadie Sink.

Thandie Newton, Madelaine Petsch, Daisy Ridley, Emily Deschanel, Kate Mara, Ruby Rose, Nathalie Emmanuel, Jessica Chastain - Carol Alt (supermodel).

Actors: Jared Leto, Brad Pitt, Woody Harrelson, Robin Williams, Mel Gibson, Joaquin Phoenix, Alec Baldwin, Steve 0, Elliot Page, Peter Dinklage, Alan Cummings, Russell Brand, James Cromwell, Benedict Cumberbatch, Kevin Smith, Theo Rossi.

Football player: Colin Kaepernick
Formula 1 Racing Legend: Lewis Hamilton.
Designer Donna Karan.
Chef Charlie Trotter.



Raise Your Vibration!
A few things to think about ...



You do not have to become a full-time vegetarian, it's not suitable for everyone. Simply focus on eating more from natural food sources that give you the vitamins, minerals and enzymes that your cells need to remain healthy and alkaline.

More people are choosing to focus on a whole food diet of vegetables, fruit, seeds and nuts, with baked fish (wild caught only), occasional eggs (free range, natural feed, orange yolk) and sprouted grains (Ezekiel, Hemp, Quinoa bread, sprouted grains).

Beans, legumes, sprouts, seeds and nuts are great sources of protein. Plant protein is alkaline and contains the healthy protein your body needs.

If your body craves red meat every now and then, go for it, but only if it is free range, grass fed. Animal protein is acid, shot full of steroids, hormones, antibiotics and other drugs, sustained on a pesticide GMO diet, then consumed by humans, resulting in disease and cancer.



Hemp Hearts are a superb source of
protein, essential fats and vitamins.

pH Balance is critical:


Meat and sugar is highly acidic.

Cancer patients have acidic bodies, as do the obese and the diseased.

Fried food, BBQ, fast food, boxed and canned foods are acidic, dead energy, with very little nutrition.

Sugar Feeds

Cancer

.

Focus on

Alkaline Food

.

"Scientists and naturalists agree that early humans were fruit and vegetable eaters and that throughout history our anatomy has not changed.

The great Swedish scientist von Linn states: "Man's structure, external and internal, compared with that of the other animals, shows that fruit and succulent vegetables constitute his natural food." - Living Vegetarian.






Powerful Vegetarians.

We do not believe that all humans need to or should become 100% vegetarian but it is interesting to note the strongest, healthiest, most gentile, agile and non-aggressive animals in the animal kingdom are vegetarian ... Elephants, giraffes, horses, gorillas, rhinos, llamas, cows, sheep, rabbits and deer.


Animal Factor

:

Try watching a video of a cow, sheep or chicken being slaughtered and look at the fear and pain they go thru - it is NOT a kind or merciful death.

Do you want to put that energy into your body? ... not to mention the growth hormones, antibiotics, radiation, bacteria and other drugs saturated into the dead, rotting flesh.

Animals have rights.
Animals have feelings.
Animals deserve respect.



QUESTION:

Animals that are vegetarian tend to be intelligent, gentle, non-aggressive and non-violent unless provoked, where as animals that are meat eaters generally tend to be more easily angered, aggressive and provoke fights. Is there not a correlation with human beings that choose one or the other diet? Hmmm ...


Watch 'Earthlings'

- A violent, shocking documentary that will crush your heart, awaken your soul, and change you forever. You probably won't get past the trailer: vimeo.com/ondemand/earthlings


Look at a recent photo

: Are you overweight, angry, depressed, lethargic, your skin aging, your hair dry, your eyes less than white? Maybe its time you adjusted your diet. Begin by checking your

BMI

- body fat percentage.


ENERGY

: Considering that everything in creation is energy, what energy are you putting in your mouth everyday, is it dead or living energy? In other words, what specifically are you feeding your cells? What are you thereby feeding your mind?

What you feed your body, you also feed your mind. Your health, waistline and mind are created and maintained in the kitchen, not the gym.



VEGETARIAN BENEFITS:

A kinder, more intelligent, compassionate, focused mind. Beautiful skin. A healthy, energized, strong body, with sparkling eyes, glowing skin and shiny hair.

A vegetarian diet slows aging and minimizes the chance of disease and illness, including obesity, allergies, Type 2 diabetes, heart disease, osteoporosis and cancer.

Diet is known to reverse multiple illnesses including cancer and heart disease:

Your doctor, your oncologist, the FDA, Big Pharma, etc ... NONE of them will tell you or admit to this. Food IS medicine.


Reverse Type 2 Diabetes in x30 days by eating a raw food diet:

Watch the trailer of this raw food documentary and see how six people eliminated their diabetes in 30 days. -

www.rawfor30days.com Choose Health:


a) Drink

Water

stay hydrated, get sunshine (15-20 mins per day), and 8 hrs of sleep.

b) Stay away from

EMF's

, drugs, and these common

Poison Foods

.




9 out of 10 cannibals agree ... vegetarians taste better!

Cool raw food website: www.thebestofrawfood.com

Eat Organic

whenever possible - avoid toxic chemical pesticides.

Eat Raw

as often as you can - In the cold winter months, steam and bake.

Nutritional deficiency is unacceptable given the abundance of available vegetables and fruit. Check out this

Master Shopping List

which not only lists the nutrients you should be eating on a regular basis, but lists the health issues related to the deficiency of each one. Correct your diet, eliminate your health problems.

Your health & mind is a reflection
of what you eat.