1)
The Grande SOQI Bed is an excellent addition for any health care practitioner, clinic or spa. Complimentary to both conventional and alternative healing, it is recommended and used by many health care professionals worldwide.
2)
Full body
thermal therapy
- relief from pain, swelling and inflammation, relaxation and much more.
3)
Specific motion energy -
aerobic respiration exercise
- adds additional health benefits.
4)
Clothing is optional as Far Infrared is a dry heat emitted from ceramic body heaters with a silicone crystal chip surface not found in any other sauna unit.
5)
Close location to body for optimal penetration and health benefits.
6)
The Far Infrared sauna dome may also be used for your
pets
.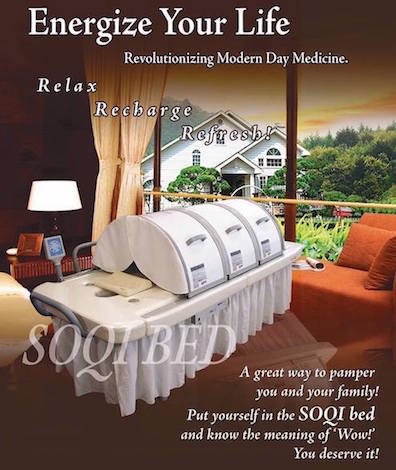 Installment Plan
Tax right-off for business owners.
x6 monthly payments - Interest free.