The SOQI Bed Sauna Spa is available thru an installment plan - x1 down-payment, plus x5 monthly payments thereafter, free shipping, and no interest. Ideal for any health business - spas, health clubs, health clinics, business office corporations for staff and executives etc - as well as for home use. A tax right-off for business owners.
Total Health Spa for Home or Business.
Only available within the USA.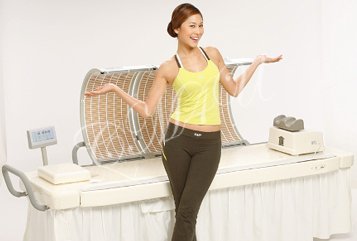 The SOQI Sauna Bed is an extraordinary healing tool for all ages. Advanced Japanese technology for the entire family, or for clients.
Far Infrared heat therapy
combined with
passive aerobic exercise
. Multiple health benefits. Built in MP3 player for additional music therapy.
SOQI Spa's
offering holistic therapy sessions to the public, may be found across Asia, Canada, Australia and Europe, with many now being set up in the USA. Everyone tends to fall in love with this extremely relaxing, intense Far Infrared therapy that combines with the original Chi Machine for full body health, healing and wellness.
Down payment is $1,950.00

1) If you decide to purchase the SOQI Bed, we suggest you sign up as a new distributor for $30.00, and instantly earn a commission check for $273.00, thus lowering the total cost of the SOQI Bed.

2) The SOQI Bed Sauna Installment Plan is currently only available in USA - Hawaii, Alaska and Puerto Rico excluded.


3) In the next few months - or sooner if stock runs out - a new SOQI Bed Sauna with Bluetooth will be introduced, priced at $5,400.00 - we recommend you buy now and save!