Cannabis Oil.
Nature's Gift: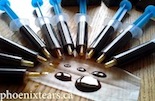 This subject is HUGE, the evidence is HUGE. Research is ongoing worldwide, especially in Israel. Cannabis oil (not CBD oil from the Hemp plant which has no THC) has PROVEN to be a cancer killer period. RESEARCH and discover for yourself.
Granny Storm Crow
has the most extensive list of medical scientific studies and articles to be fund anywhere on the internet:
- www.grannystormcrowslist.wordpress.com

The Search for Cancer Terminators ...

If the public had easy access to the cancer terminators discussed above, the powers that be would lose control of legalized murder with chemotherapy. Fight for the truth. Fight for natural cancer therapies to be available. It's time to wake up and take action through the power of personal choice.

Discoveries and Research:

1) Light and acid kill cancer cells from the inside out:

In an effort to destroy cancer cells without harming surrounding tissue, using beams of light to activate chemicals or particles in tumors has shown much promise.

- newatlas.com


2) Photodynamic Therapy
- newatlas.com

3) Morning people have lower breast cancer risk.
The body clock: bbc.com/news/health-46102193

4) Immunotherapy Options:
a) https://med.stanford.edu

b) https://www.sfgate.com

c) https://www.independent.co.uk

d) https://www.bloomberg.com

5) Treating breast cancer without chemotherapy - European genomic study:
https://www.healthline.com/health-news

6) Sound waves can kill cancer - Anthony Holland:
https://www.powerofpositivity.com

7) Proton Beam Therapy for Cancer - UK:
https://www.bbc.com/news


Cancer 911
Information your oncologist
won't discuss, or will deny.

Cancer Checklist
For every cancer patient.
MUST READ.