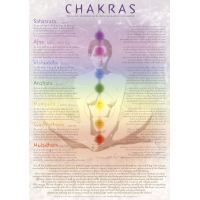 Chakras - Spinning Energy Centers.
Yoga centers the body by holding different postures that connect with the chakras.
If a Chakra becomes blocked, specific emotional and physical problems begin.
To heal the body, mind and spirit, is to bring the chakras into alignment and balance.
Chakras - their Color Frequencies and Vibration:
RED - C:
Base/Kumdalini/Root Chakra - Located at the base of the spine.
Red stimuates circulation and raises blood temperature.
This chakra grounds us in the physical, related to security and survival.
ORANGE - D
: Spleen Chakra - Located beneath the navel.
Home of creativity, vitality, sexuality, hormones, kidneys, urinary tract and reproduction. Blockages manifest as such.
YELLOW - E:
Solar Plexis - related to the pancreas, digestion, liver and outer adrenal glands
The seat of our emotions. Blockages manifest as anger, sense of victimization, poor me, resentment.
GREEN - F:
Heart Chakra - related to the thymus and the heart - balance and harmony.
Blockages manifest as heart or immune system problems, lack of compassion.
BLUE - G:
Throat Chakra - Parallel to the thyroid gland - All about communication.
Blockages manifest as insomnia, inflammatory conditions, stress, tension, migraines, skin problems.
INDIGO - A:
Third Eye Chakra - Linked to the Pineal Gland.
Connected to the higher self and psychic abilities.
PURPLE - B:
Crown Chakra - Located at top of head.
Connection to higher spiritual realms.
Thousands of people every year, are now traveling to Thailand, China, Japan, Brazil, Germany and Mexico for affordable, non toxic, alternative healing. Western medical practitioners need to become educated as soon as possible regarding Chi energy, electotherapy and
Far Infrared
heat energy, or expect to receive the very same ridicule they harbor towards the wise and ancient Far East, directed towards themselves.
It is worth pointing out that even little children in the Far East know what CHI is, but adults in the West cannot even pronounce the word!
With cyberspace at our fingertips, extensive research is now possible for everyone, which means the numbers of the once faithful followers of the greedy and archaic methods of the Hippocratic Western medical establishment, are now declining. Afterall, without health, dreams and desires become irrelevant.