Health Care Practitioners
Chi Machine Reviews.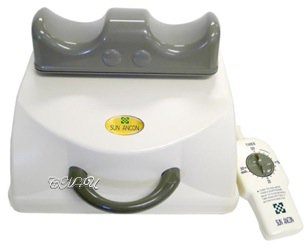 Original Chi Machine, the Sun Ancon.
Over the past two and half decades, countless health care practitioners, both conventional and alternative, from every health and wellness medium you can think of, have voluntarily given feedback, reviews and in-depth medical testimonials on their experiences with all of HTE's SOQI health machines, including the Original Chi Machine.

Family Doctors, Nurses, Herbalist, Allergist, Cosmetology, Teen Counselor, Wellness Center, EMT, Reiki Masters, Reading Specialist, Dentists, Teachers, Biofeedback Technicians, Acupuncturist, Geriatric Care, Iridologist, Chemical Dependency Counselor, Chiropractors, Plastic Surgeon, Neurosurgeon, Opthalmologists, Cognitive Trainers ... to mention just a few.




-Original Sun Ancon Chi Machine,
featured on The Doctors and Dr Oz.

Simple to use, for home or professional use.

2016:


This page had to be edited and most testimonials removed, because the powers that be stipulate that health testimonials published in the USA (including world famous aromatherapy company Young Living Oils), be removed if they contain mention of specific medical disease, no matter if the information is verified and comes from professional health care practitioners.

Basically, if there is a prescribed medication available on the American market - frequently advertised on TV daily - physical/mental symptoms are labelled and classified as a medical disease, and a synthetic drug is offered as a quick-fix band-aid for the symptoms.

There is NO discussion about the SOURCE of the illness. There is NO intention to heal, only to medicate and to suppress symptoms, which often leads to further illness, and to drug addiction, as can be seen by the current opiate addiction epidemic.

This is intentionally limiting, attempting to re-direct the public from knowledge of non-toxic, natural healing modalities, which focus on HEALING THE SOURCE and bringing the body back to health and wellness.

Why? Because a healthy person removes power and profit from the pharmaceutical giants and their investors.

2020/21:
This time proved the tremendous power and control Big Pharma has over healthy people worldwide, and refused to allow doctors to discuss or prescribe alternate protocols, arresting those that did. Those who refused to comply lost their careers.

It's all about CHOICES and CONSEQUENCES at the end of the day.

You are welcome to contact us at anytime for advice pertaining to specific personal health challenges you need help with. Enjoy the professional reviews below ...


Healthcare Professionals,
Experiences and Reviews:

Counselor/ Metaphysician, Springville, Utah - Dr. Jerry Glass Ph.D.
"I use the Chi Machine for my youth and adult clients, in counseling, intervention therapy and stress management classes. My mind, body, and spirit sessions are for the improvement of the whole person. The Chi Machine helps to relax stressed clients in preparation for counseling, especially for abused and distressed youth.

For severely disable people the passive aerobic action of the Chi Machine helps circulation and flexibility. I also like using it in Art Therapy to help promote brain integration for greater creativity."


EMT, Reiki Master, West Bend, WI - Renny Mayer.
"After my EMT work, my field is shaken loose of mental and emotional debris, by using The Chi Machine. For my Reiki clients, the relaxation on The Chi Machine clears their energy field quickly to prepare them for a hands-on-healing session."

A. Waldron, owner of Self Empowerment Center,.
A stress-management company who work with alternative health modalities. The Chi Machine and the Far Infrared dome 'sauna' are both used at their facility. They have found that by using them, in addition to the work that they do, clients benefit because it moves them into a state of relaxation so that they actually benefit more from what is done at the Center.

Dentist - Joan M. Jakubas D.D.S. 

"I am a dentist. My hygienist, Sheldon Las introduced me to the Chi Machine. At the time I was having great pain in my back, shoulders, and arm. After using The Chi Machine I became more flexible and pleasantly pain free. I would rather not rely on chemicals for movement. I incorporate The Chi Machine into my daily life by introducing it to all my coworkers and friends. My assistant just purchased her own unit."



Chi Machine and Far Infrared Dome
used together for combination therapy.

Family Doctor - Board Certified, Tulsa, OK - Anne May, M.D.
"I am using both The Chi Machine and the Far Infrared Dome as adjunctive therapy for pain relief."


Registered Nurse, Indio, CA - Robert C Iniguez
"I discovered The Chi Machine very recently and I'm using it with a few patients. My patients are much more relaxed and their sleeping patterns have improved just by using the machine."


K.Priestly - Health Consultant and Practitioner
"Serving as a Health Consultant advocating and practicing self-health and owing a health product business for a number of years has brought me in contact with many health professionals, modalities, and related products and services.


I am constantly receiving beneficial reports from clients and customers using the Chi Machine. I have not seen unity of thought and interest from a variety of health practitioners toward a single product prior to this device. I'm grateful for the health benefits that I am continually receiving."


Chiropractic Physician, Lake Oswego, OR - Kimberly Guthrie.
"I started using The Chi Machine about two weeks ago. I have had the best nights sleep since. Before using The Chi Machine I would wake up two to four times in the night feeling like I never slept."



The Chi Machine is very popular with chiropractors, normally used before or after adjustment to relax patients and help alignment.



Marcelo A. Shanly, M.D.
 Clinica Integral De La Vision
 Ophthalmologist - 
Buenos Aires, Argentina.
"I am an Ophthalmologist practicing in Buenos Aires, Argentina. I learned about the Chi Machine and the Far Infrared Sauna Dome at an ophthalmology convention in San Diego. I am using them with my patients in order to relax them, and some of them are still coming back for a new session later on because they receive muscle relief."

S.W.A.T. Team / Deputy Sheriff , Rice, MN - Kurt Huver
"Besides my job as a Deputy Sheriff, I am also on the Advanced S.W.A.T Team. This means I can be called out at anytime of the day or night, besides already putting my day in as a Deputy Sheriff. This can be very stressful. I have found The Chi Machine to be very beneficial in energizing me, and helping deal with the stress that I incur in my job."


Herbalist, Marietta, OH - Sandy Schafer.

"I have used The Chi Machine for many years now. It has helped relieve back and neck muscle pain experienced as a result of an automobile accident."


Dr. Rick Munoz - O.D
 Therapeutic Optometrist, 
Odessa Eye Clinic
, Odessa, TX
"I have been practicing for seven years. I am 36 years old. I was somewhat skeptical of the Chi Machine before trying it, but I am glad I did. I have a recurrent lower back problem and my knee has been hurting lately, the latter being a racquetball injury.


After just the first use for 15 minutes on the Chi Machine, I felt relief in my back and my knee. The machine relaxes and invigorates at the same time. The benefit seems to come immediately following the use of the machine when you relax for a few minutes. An indescribable current or wave of electricity seems to course through my body after each use.

Several friends, at my urging, have used my machine and every single one has felt its benefits. My wife loves it as well. We use it before work in the morning and before bedtime.


My mother-in-law suddenly visits us almost daily and uses the machine as well. I am considering using the machine on patients who are about to undergo laser treatment as a form of relaxation. A remarkable machine."





Original Sun Ancon Chi Machine


Classified as a Medical Device in 4 countries,
Japan, Australia, USA and Canada.